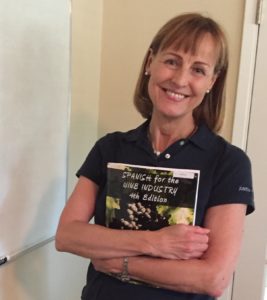 Josefina K. Adriance
Lead Instructor & Creator of the Spanish for the Wine Industry Program
A native of Madrid, Spain, Josefina holds both Bachelor's and Master's degrees in Spanish. Since 1985 she has lived in Napa, California teaching Spanish for over twenty-five years.
Following a career of teaching Spanish in school and colleges in the USA, she focused her Spanish teaching on the needs of business. In 1992, she founded Spanish for Business, providing Spanish classes and translations for business.
Josefina's Napa-based business brings a variety of clients to her classes, but her realization that over 90% of her clients were those in the winery and vineyard business led her to search for materials for her classes and translations. Her conclusion that there were few materials available that provided vocabulary specific to the wine industry led to creation of her program "Spanish for the Wine Industry" in 2003.
"Spanish for the Wine Industry" grew from classes to a manual and other learning tools, all with the goal of providing instruction in effective communications with Spanish speaking workers in the vineyard and winery, as well as enhancing Spanish-speaking skills of human resources personnel and those involved in wine tourism. Soon, Josefina was approached by a client who wanted to assist his Spanish employees in learning English: the result was the "English for the Wine Industry" manual.
As a translator for the wine industry Josefina encountered many winery/vineyard related terms that were not easily found in a dictionary or on the internet. Years of research led to the "English-Spanish Dictionary for the Wine Industry", first published in 2010.
Josefina continually updates her program by adding new materials and classes. Her most recent accomplishment is creation of the on-line Spanish and English for the Wine Industry courses .   Now you can learn Spanish  or (ESL) English for the Wine Industry from the conveninence of your home or office.  Our online classes are live and interactive.  It is like having the class in your home or workplace.